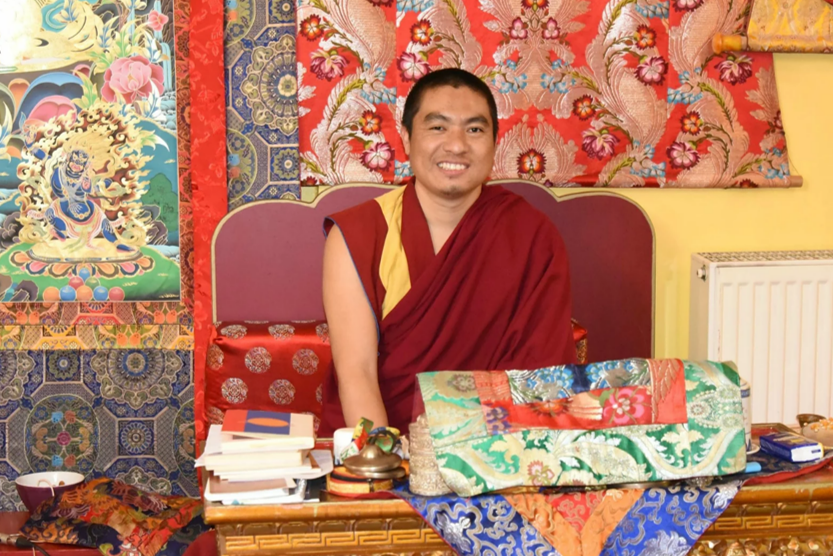 My religious name is Lama Sherab Sangpo, and my civil name is Nima Bhutia. I was born on 5th June 1992 in Eastern Nepal.
I entered the Sakya Guru Monastery of Tibetan Buddhism in Ghoom/Darjeeling (WB, India) in the year 2000 and took the vows as a novice monk. There I studied and memorized many rituals, learned how to make tormas and mandalas according to the regular program. All monks must be able to perform these rituals as they are an integral part of the annual monastic program.
In 2008 I took full Bhikshu ordination. After further studies at Sakya Guru Monastery in Darjeeling I joined the Sakya Choepheling Institute of Higher Buddhist Studies in Rimbick (near Darjeeling) to deepen my knowledge in buddhist philosophy, studying the Bodhicaryavatara, Abhisamaya Alamkara (Ornament of Clear Realization), Madhyamika (The Middle Way) by Aryadeva, Pramanavarttika karika (Commentary on the Valid Cognition) by Dharmakirti, Logic and Epistemology by Sakya Pandita, A Clear Differentiation of the Three Codes by Sakya Pandita, Introduction to the Middle Way by Chandrakirti.

In 2017 I graduated as a Lopön Master.
In 2018 I went to the buddhist center Sakya Samdrub Ling in Malaysia and during one year I participated in the center's activities and performed rituals at the temple and in private family homes.
After returning to India, I undertook and successfully completed a 3-year retreat at the Sakya Dolma Phodrang retreat center in Dehradun. During this retreat I performed traditional Sakya practices, such as Vajrapani, Mahavairocana, Vajrakilaya, Hevajra, Vajrayogini, Sakya Pandita, etc.
Then, in July 2022, I was invited to Sakya Tsechen Ling in France and thus, for the first time, I came to Europe.
I do my daily practice sessions now at the Institute in Kuttolsheim, where I also take care of the temple and perform daily Tara rituals in the morning and Mahakala rituals in the afternoon, as per tradition. I am happy to welcome visitors and meet new people. I am also happy to perform specific rituals upon request.